Adrian J Cotterill, Editor-in-Chief
Branded Cities this week announced the promotion of Vaibhav Gupta to President for its United States division. Vaibhav will retain his Chief Operating Officer role.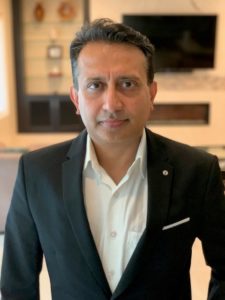 Steve Ellman, Chairman and CEO of Branded Cities told us "Vaibhav is a seasoned leader with a clear strategic vision and a track record of delivering performance. I am confident that Vaibhav's expertise and deep understanding of the OOH media space will help us achieve long-term success and growth."
Vaibhav has been with Branded Cities since 2010 and most recently was the company's Executive Vice President and Chief Operating Officer. Prior to his work at Branded Cities, Vaibhav was Managing Director/Chief Investment Officer for the Ellman Companies from 2007 to 2010 where he oversaw all real estate investments and acquisitions. Vaibhav, while with the Ellman Companies, also served as CFO/Senior Vice President, Finance & Administration for the Phoenix Coyotes NHL Franchise and Glendale Arena and spearheaded project financing for Westgate City Center and recapitalization of the Coyotes, from 2001 to 2005.
Branded Cities is owned by EL Media and Shamrock Capital, is a leading Out-of-Home media company with an integrated network of premier digital and static signage across North America. The digital and static media assets span across some of the largest markets in the United States and Canada (New York, Los Angeles, Chicago, Philadelphia, Toronto, Miami, San Francisco, Vancouver, Montreal and many more) and are situated in the country's most valuable Out-of-Home environments such as Times Square, the Las Vegas Strip, West Hollywood, Union Station, Yonge – Dundas Square and Canada's leading shopping centers.