Adrian J Cotterill, Editor-in-Chief
After 11 years, Tom Beckenham has stepped down from his role of CEO at Specle. His LinkedIn profile now lists him as a 'Tech Entrepreneur & Property Investor'.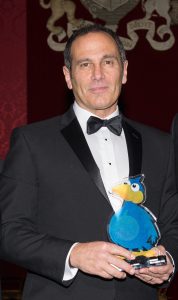 One of our go to Investor Conference speakers, Randolph K. Adler, Jr. has left the company he sold his last business to, the World's Largest Law Firm Dentons (one of the major supporters of New York Digital Signage Week) and is now Partner, National Co-Chair, Emerging Companies and Venture Capital Group, Fox Rothschild LLP.
Super salesman Skip Beloff (shown to the left here) has left BroadSign after seven years. Many forget that Skip was instrumental in a number of pioneering DOOH businesses, not least his seven years setting up Dan Media, one of North America's first and largest Digital Out Of Home Networks (located then in 75 Tier One Shopping Malls) and with Airborne Entertainment. Skip tells us he has left to pursue his real estate portfolio and that he will remain involved in our industry with his company, Belstar Consultants where he will handle a selective few clients globally as an ambassador and advisor.
Former NanoLumens LED Genius Paul England is now with Sansi North America (SNA).
After almost three years with MaxMedia, the rumour at #Infocomm17 was that Laura Davis Taylor is returning to her roots as one of the best consultants / professional speakers in the industry.