Adrian J Cotterill, Editor-in-Chief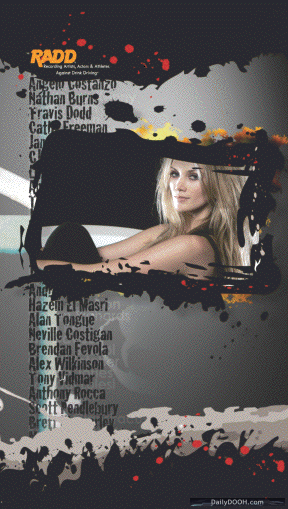 It's a natural and perhaps logical extension for Out of Home content companies to either try their hand at TV campaigns (TVC) or at least pitch for that sort of work.
Avant Screenmedia in the UK of course recently got on the rosta for BBC graphics work and here we see in Australia, Prime Digital Media (PDM) creating a national TVC for (now take a breath) Recording Artists, Actors and Athletes Against Drink Driving (RADD).
The campaign is to be shown on BOTH free-to-air and pay TV as well as PDM's digital media channel in Boost Juice stores which we wrote about last week.
PDM's in-house creative studio is called Fireback Digital (note to PDM: be careful don't have too many brands here) and the commercial created focuses on promoting the use of designated drivers.
For those who may know their Australian celebrities (or who follow Music, cricket or Everton Football Club), it stars, among others, Ricky Ponting, Delta Goodrem, Stirling Mortlock, the Veronicas, Jimmy Barnes, Ben Lee, Tim Cahill, and RADD's patron Sir Paul McCarthy.
Interestingly Julie Frikken, PDM's Creative Director said that 1.1 million young people will see the campaign via their in-store Boost TV network. No mention was made of audience sizes via free to air and Pay-TV.
RADD launched four years ago and during that time has been supported by around 600 celebrities. Its goal is to raise awareness of the dangers associated with drink driving and promote safe alternatives.