Aldeasa first launched its digital signage network in its duty free stores in Spain's Palma de Mallorca airport in December 2008 as part of the first phase of a global rollout program. Eight months later it's good to see Aldeasa true to its word, now rolling out the network in three stores in Terminal 1 at Barcelona International Airport.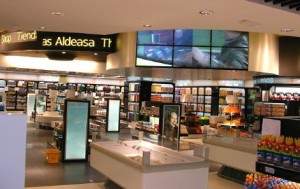 The objectives of the Aldeasa Digital Signage Network remain unchanged: to provide an engaging, informative and valuable digital channel to promote products and services to its customers, and to provide a commercial platform from which to generate incremental revenues from airtime sales to suppliers.
Javier Menendez, ASVideo's Sales General Manager told us "Aldeasa wanted screens to provide dual use functionality, to promote key offers and at the same time help customers to identify available checkouts quickly and easily"
A wide variety of promotional, informational and brand-building content is now available across this enhanced network that now uses screens in a variety of formats ― horizontal, vertical and anamorphic ― to improve message delivery, and to speed content design and re-purposing.
Messages are delivered via 13 40- to 42-inch LCD displays in both portrait and landscape aspect, two 57-inch freestanding LCD displays in portrait aspect, and two high-quality video walls comprising six and four 42-inch displays, respectively.
Scala controls 25 total display panels that can display different content at different times, depending on the needs of the network.
Match Ingeniería de Sistemas General Director Jorge Martínez told us "It's awesome to visit a new store and find a multi-screen network working so harmoniously and providing brand value by virtue of its high-quality content,"
He added "This new format provides the marketing team at Aldeasa with much more flexibility in how they use their screen network, from close proximity signage to store-wide digital posters and way-finding."
The 42-inch and 57-inch portrait displays deliver store information and special offers, while several 40-inch screens above the checkouts deliver two key messages: The top third of each screen is split into two boxes indicating which checkouts are open or closed. The remaining two thirds of the screen promotes a core offering with a strong price promotion motivate impulse purchases.
About AS Video

AS Video was founded in 1989 as a video production company offering creation and editing services to the business sector.

Initially, the principal activity of AS Video was the creation and production of video material for pharmacological companies and hospitals. In 2003, AS Video create a new division dedicated to the creation of content for the emerging digital signage market, specifically regarding interactive applications given that, in the company's view, interactivity is the reason for future customer engagement once the broadcast media element has been fully understood and by customers.

In 2004, AS Video choose Scala as its preferred digital signage creation and management application as it provided a comprehensive suite of features and benefits required by AS Video to fulfill its content creation requirements. Subsequently, AS Video has become a leading reference partner to Scala in content creation and script designing in Spain.

High-profile clients include Warner Bros. theme park, Madrid Polytechnic University, Valencia Subway, Carrefour TV, Banesto Bank, Telefonica Product, Bonalba Golf TV, Aldeasa, SESCAM (Health Care service of Castilla-La Mancha) and INFINITI.