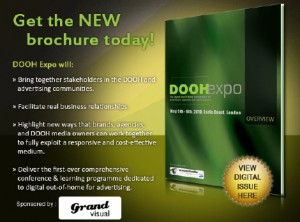 Barnaby Page, editor at screens.tv wrote this week "New at Screenmedia Expo Europe next year is a separate-but-linked DOOH Expo, focusing on the advertising potential of this medium and aimed not at the guys with screwdrivers but at the guys with red bow-ties" !!!!
He continued with a list of predictions for the industry that we are sure will be explored in more detail by the excellent line up of speakers at next May's DOOH Expo event: –
Slowly but surely, metrics standards emerge, and get used.
Aggregators deliver audiences – not locations.
Media sales is increasingly done by media sales people, not by the guy who installed the screen.
The first truly international DOOH packages become available to media buyers.
Outdoor goes digital, all over the place.
Sophisticated interaction increases consumer engagement – it's not just about Bluetooth!
Creative works better.
Each screen is more effective too.
More advertising messages are based on external data – ranging from the age of the viewer, to the current weather, to the store's stock levels. Call it "contextual out-of-home".
Reachable audiences gain critical mass
Read the predictions in full here 'Ten DOOH predictions for 2010' AND look at the DOOH Expo brochure and see why you should be there here.