Calvin Klein Underwear and GQ recently partnered up for an exclusive augmented reality advertising campaign across 12 countries.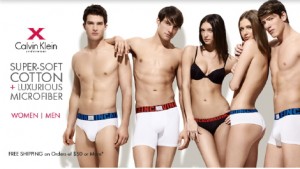 Consumers with webcams are able to view the AR films by visiting the brands' dedicated microsite at xmarkyourspot.com -once in the Augmented 'X' section of the site, visitors can either hold up the ad from the magazine or a print-out of the AR code in front of their webcam.
A 3D box will then appear which allows visitors to select from four short films created exclusively for the GQ AR program!
Peter Hunsinger, VP & Publisher of GQ told us "The Augmented Reality element ensures total engagement with our ardent readership of both fashion and technology loving consumers. Calvin Klein Underwear in GQ, with these four guys, is simply put, lights out."
The Augmented Reality print advertisements are just one element of a new Calvin Klein Underwear campaign in support of its latest men's introduction, Calvin Klein X Underwear (the most global and digital campaign to date for the brand we are told).
Calvin Klein Underwear is one of the first fashion companies to run AR advertising.
The imagery for the digital campaign includes both still photography by fashion photographer Mikael Jansson and digital films produced by Darius Khondji, shot in New York City. The multi-media campaign was conceived and executed by Trey Laird and Laird & Partners. Laird & Partners collaborated with digital agency Syrup on the conception and execution of the digital components.