Gail Chiasson, North American Editor
One of the new products that Litelogic, based in Kingston-upon-Thames, Surrey, showed off at #ScreenMediaExpo for the first time is a bright, round LED sign.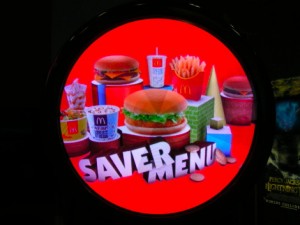 I can easily envision this at the entrance to quick service restaurant drive-in areas or at Lotto locales, among other places.
The company itself envisions Disclite being sold to signage integrators as well as corporate interests. The product would be especially good for companies who have a round logo.
Disclite isn't intended to replace a LCD screen, and one wouldn't use it for a message with a lot of copy. The unit has four spinning arms that make virtual image. It measures 850 mm diameter and despite using a low 400 watts of power (maximum), the brightness competes with outdoor LED at 5000 nits.
Disclite sells at GBP 5000 (approximately USD 8,000) as a one-off.