Adrian J Cotterill, Editor-in-Chief
Modell's Sporting Goods Flagship Store in Times Square has updated its Outdoor LED Display with Daktronics DVX Technology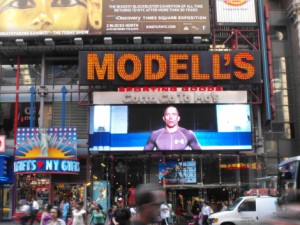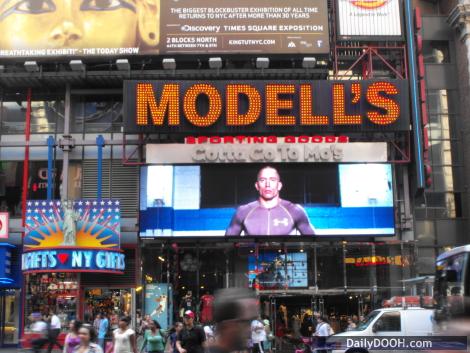 Located at 234 West 42nd Street in New York City, the new Daktronics-manufactured LED board officially fired up in mid-August.
Amanda Grossman, Director of Programming and Events in New York for Modell's Sporting Goods told us "When researching potential suppliers for the board, we first looked to the HD screen at Yankee Stadium as a model. We quickly learned of Daktronics' capabilities through their work within that and other stadiums. The company came highly recommended from those familiar with the work of Daktronics."
The display utilizes Daktronics' cutting-edge 20 mm DVX LED video technology and measures approximately 10 feet high by 34 feet wide.
"We will feature in-house content as well as highlight some of the great brands and product lines from key vendor partners including Adidas, Champion, Nike, Reebok and UnderArmour. We also have the ability to broadcast press-conferences and other events occurring inside the store, such as pro player appearances, live to crowds on 42nd street" said Grossman.
Daktronics' first Times Square project was of course the well-known Dow Jones Zipper display in 1986. Since that time, Daktronics has added more than 20 major projects to the world-famous area of New York City, more than any other LED display manufacturer. Some of the most well-known Daktronics projects in Times Square include the Coca-Cola® display, the Anheuser-Busch sign, and the new Sony Corporation of American and News Corporation display on One Times Square Tower installed in July 2010.