Adrian J Cotterill, Editor-in-Chief
It was David Byrne I think who once said that "scratching your head in front of 10,000 people" wasn't quite the same as "scratching your head in your own home" – that awareness of your effect on others has been top of our mind recently.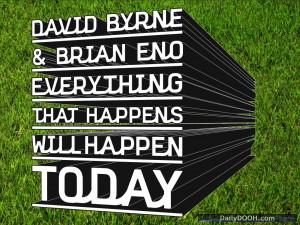 Over these last few months we have seen Daily visitor numbers grow and grow – seemingly, we tweet and people go read the blog, we email six times a week and people do the same.
We've had days in the last few weeks where almost 2,000 people have together visited the site 3,000 times! That double-dipping (one unique user visits the site in one day more than once) has been something we have been aiming for and we are especially pleased that people figure we are (sometimes) newsworthy enough to come visit us more than once (in their busy day).
Not all of you will read this on Saturday (when it is mailed out), some may pick it up on the weekend but half of you will wait 'til Monday to read but forgive us today (whatever day it is for you) if we share with you just a few pieces of our own exciting news: –
Monday sees a new site sponsor – someone we are quite pleased to have on board and someone who has committed to spend with us until the end of June 2011. We won't tell you who it is yet – we'll leave that as a surprise for Monday morning BUT as site sponsor it's going to be incredibly visible and you won't miss it.
We've also restarted our own advertising campaign and if you look carefully enough you may see our own adverts on LinkedIn and other (miscellaneous) sites.
One of the things that we love about this business that we have built up is the travel and the openness … two of the things that we love about this business that we have built up is the travel, the openness and fun that we have … okay … three of the many things! The end of this month sees us spend pretty much a whole week in Montreal.

Tiohtià:ke, Moniang or Montreal, however you call it is one hotbed of technology, media and creative innovation and we simply don't have enough hours in the day to meet all the people we wish to. Part of our openness is letting you know where we are and what we are doing (our Travelogue is perhaps the best example of that).

That week sees us arrive Saturday 27th November, have a team party Sunday (our NA editor Gail is of course a Montreal resident) and then it's straight into a whirlwind of meetings. On Monday we will spend time with X2O in the morning and new CoolSign owner Haivision in the afternoon. Tuesday sees us with good friend Denys Lavigne and his team at Arsenal média, perfecting some Digital Content Circle initiatives and working together on a new book for a customer. Wednesday is a VC day but Thursday sees us with a company much in the news lately – namely Ayuda Media Systems. We hope to get a closer look at their new online planning and buying product Symphony.

Oh yes and there's an ice hockey game we also want to squeeze in, dinner with Zoom Media owner François de Gaspé Beaubien, and hopefully a chance to sit down with the mighty Chris Riegel (who will also be in town) and his bunch of Activia STRATACACHE techies who are based in the city

Several of you wrote in (and SKYPEd) to tell us how 'moving' you found our 11/11/2010 11:00am poetry post entitled MEMORY (written by Siegfried Sassoon) and asked for some background and a little more information.

I met Major Mike Dillon Lee at the Royal Military College of Science (RMCS). He was a good friend of mine and in the late 1970's and early 1980's we were both members of the England and GB Shooting teams. Mike was shot in front of his wife in Dortmund on 2nd June 1990 whilst serving with the BAOR. Whether you call it Remembrance Day, Armistice Day, Veterans day, Volkstrauertag or honour the war dead in some other way – it's a time we believe to remember those on all sides of conflict. When we all get hung up about digital signage, associations, technical advocacy it's probably a good way to put life in context. Only last week our team was breaking bread and drinking beer with many who 70 years ago we were at war with.
As usual we'd like to thank all of our staff, contributors, advertisers and readers. Without you we wouldn't be here. And we'll leave you today by paraphrasing some words from David Byrne "Never for money, Always for love … Guess that this must be the place"