CEMUSA digital billboards at transit shelters and news stands now allow brands to connect with consumers. European wireless operator Orange teamed up with Google to introduce their wireless application 'ON' that runs on Google Android's OS for an innovative ad campaign that that combined out-of home advertising and wireless wifi hotspots .
Ever since Manolo Almagro reported first, that CEMUSA introduced their first digital news stands in New York City, many digital out of home enthusiasts have been eagerly anticipating an innovative use of these spectacular advertising kiosks.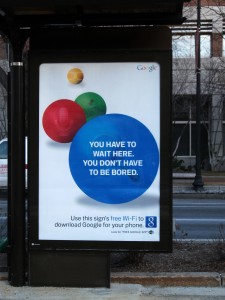 For the past few months, Google Inc., Nokia Corp. & France Telecom SA's Orange have been running a pilot program that engages consumers who are waiting at transit shelters. A poster for a recent Google Ad campaign that ran in bus stops in Boston read 'You have to wait here. You don't have to be bored'.
A Free mobile Wifi Hotspot allowed consumers to download Google's Mobile App on the spot, avoiding any data charges and giving the user access to the internet while they wait – hallelujah, we've suggested to the outdoor folks that offering free wi-fi to anything digital of theirs for years now, Ed
Another successful campaign that ran in the U.S., U.K., South Africa and Australia promoted Nokia's Ovi App Store. Consumers were able to download the mobile app store via bluetooth or text message from their smartphone while in the vicinity of the billboard. The ad read: 'Get Apps & Much More for your Nokia, Turn On Your Bluetooth Now'.
The million dollar ad campaign that ran for 10 weeks resulted in 1.5 million people interacting with it and over 10 million people seeing the ad.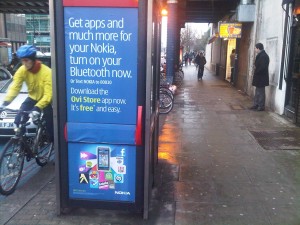 CEMUSA North America, Director of Marketing & Business Development, Nigel Emery mentioned that we can expect more innovative campaigns like this from CEMUSA in the future. As of right now, many marketers are really only using this innovative technology to distribute mobile apps or ringtones for smartphones, however it's possible that digital outdoor ads can be used to distribute games, hi-def commercials or even online goods & services.
Interactive Ads have the power to change the digital out of home industry for these simple reasons. 1. Relevant. 2. Engagement. 3. Measurement.
First, these campaigns become more relevant to consumers when they personalize the experience on their mobile device or smart phone.
Secondly, these interactive billboards are engaging and connect brands with consumers.
Finally, this type of innovative use of DOOH & Mobile technology can accurately measure the effectiveness of any marketing spend and give the advertiser real time metrics.
Now, what advertiser doesn't want that?