Gail Chiasson, North American Editor
Montreal-based Zoom Media recently appointed Jeff Dyck as its new sales director in Toronto.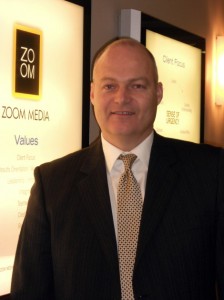 Dyck has a 20-year background in advertising sales, marketing, and team leadership in the advertising and media industry with WIC Television Ltd., Baton Broadcasting and CTV, among others. For the past eight years he was director of sales for Canwest Media Inc..
"One of Jeff's career objectives is to learn, lead and inspire success, which is exactly the style of management team that Zoom is continuing to build," says Dean Lacheur, vice-president sales – Canada.
Zoom Media reaches specific target audiences in its eight complimentary networks including resto-bars, college and university campuses and fitness centres. Research, event marketing, creative production and media integration services are also provided. Zoom Media is a member of COMB, a founding member of OMAC and a board member of CODACAN. Overall Zoom Media Group Inc. owns and operates over 80,000 billboards across North America and Europe, of which over 26,000 are digital.