Gail Chiasson, North American Editor
As expected after we spotted a joint logo for NEC Display Solutions, Itasca, Illinois, and DOmedia, Columbus, Ohio, last week, the two companies are today announcing the formation of a strategic partnership that creates an end-to-end solution for the challenges related to the buying and selling of digital out-of-home/digital place-based media.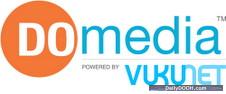 'DOmedia Powered by VUKUNET' allows for the efficient planning, buying, management and measurement of large DOOH advertising campaigns across many different DOOH networks. This new ability to scale and measure effectiveness of DOOH advertising during the life of a campaign addresses two of the last remaining obstacles to the widespread adoption of DOOH advertising.
DOmedia is used by some 600 media buyers and sellers as well as advertisers across the U.S., who use it to search out and contact the 100-plus DOOH networks on DOmedia's listing when planning and buying DOOH campaigns.
"We've been working to develop DOmedia for a few years and are very proud of our partnership with companies like the Starcom Mediavest Group whereby we're the exclusive go-to place for digital signage," says Jeff Bell, chairman, DOmedia, "However, the feedback we've been getting has been the need for value-added, especially in the areas of trafficing and inventory management. So we met with numerous players and it was clear that Vukunet is the one that gives us the power to offer everything needed."
According to PQ Media, the DOOH ad medium is one of the fastest growing media in North America, with 18.1% compounded annual growth projected for the next four years.
Advertising agencies have indicated a willingness to invest more money in DOOH, but first require the industry's adoption of standards in the areas of creative, ad serving, audience measurement and performance reporting.
DOmedia Powered by VUKUNET allows for the seamless integration of advertising agency and DOOH network activities from campaign planning through execution.
"We're now the go-to place because VUKUNET allows us to offer content management, trafficing, measurability, efficiency, proof-of-performance, the whole package," says Bell. "DOmedia Powered by Vukunet is the single standardized marketplace, the best-in-class software solution for the ordering and scheduling of DOOH."
The solution incorporates DOmedia's web-based, front-end media search, planning and buying tools with NEC's back-end VUKUNET technology, which provides comprehensive ad inventory management, ad campaign placement, tracking, measurement and reporting capabilities to display to media buyers. The combined solution is aimed at resolving issues with technology fragmentation by creating a standards-based solution that will benefit the entire DOOH market.
"The industry desperately needs something like this," says Pierre Richer, president and COO, NEC Display Solutions. "We have a unique offering that deals with everything from inventory management right down to the billing. DOmedia has a great platform. We now have a solid partnership that combines the best of both worlds for our growth as well as a joint vision for the digital place-based industry going forward.
"The partnership with DOmedia will be the industry standard that will generate incredible growth in the DOOH industry. While the market matures, an open end-to-end solution will create value for both buyers and sellers by lowering operating expenses, increasing transparency and creating innovation like we've seen in the online and mobile advertising industries."
Benefits to media agencies and advertisers include an easier way to purchase and track DOOH media and a lower operational cost attributed to the buying process. DOOH network operators will benefit from technology integration through inventory management, ad delivery, collaboration with agencies, and increased revenue potential. VUKUNET's unique approach allows the technology to work across many software platforms currently being used by network operators.
"It's an easy-to-use system that solves a lot of problems," says Bell. "There was a need for this type of product, offering buyers and sellers scale and accountability, especially as the industry grows."
"One end-to-end solution from planning to execution for DOOH advertising campaigns will enable advertising agencies to buy the medium on a larger scale more efficiently," says John Muszynski, chief investment officer, Starcom Mediavest Group. "This kind of technology innovation ultimately helps agencies effectively service clients and puts them at a competitive advantage in the marketplace."
Rich Langdale, CEO of DOmedia, says, "The DOOH industry has a need for technology to solve a lot of problems with inefficiencies and standardization, and we are taking a step in the right direction. The open, end-to-end approach we are building with NEC will ultimately benefit both the media buyers and sellers. Everybody wins."
We asked Richer if there is anything in the partnership that signals exclusivity – there isn't, although we don't know of any other company in North America currently with a similar offering to that of DOmedia. (However, with Trigger Networks moving into the North American market – see our March 30/11 article – we think there may be some similar applications, so the timing of this partnership could be pleasantly fortuitous for DOmedia and VUKUNET. Ed.)
We also asked if this could mean any expansion into Europe for DOmedia, since VUKUNET is developing in Europe.
"Not at this time, but we have had some very early dialogue on the topic," says Richer. "We're definitely open to further discussion, if DOmedia has any interest." (Bell says that the U.S. is its only concern at this time.)
Sue Danaher, president of the Digital Place-based Advertising Association, says, "Companies like DOmedia and NEC coming together help to propel the overall industry and bring innovative products to market for buyers and sellers to choose from. The investment from companies like these is a true testament to the exciting future opportunities for the digital place-based industry."