Sharp, Japan's largest maker of liquid-crystal displays, has suspended its two biggest LCD factories until May after last month's natural disaster led to a shortage of materials, in particular the shortage of gas needed for production.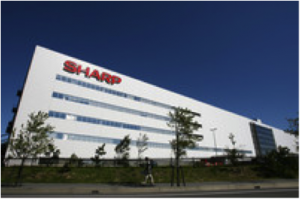 The plants in Osaka and Mie prefectures, halted this month and are expected to resume operations as early as May 6, Miyuki Nakayama, a Tokyo-based spokeswoman, was reported as saying.
Sharp is prioritizing the use of scarce materials, including gas, at plants that make smaller-sized LCDs because they are experiencing stronger demand, Nakayama said.
Sharp's so-called 10th- generation factory in Sakai, Osaka, has a production capacity of 72,000 panels a month, while the eighth-generation LCD plant in Kameyama, Mie, is capable of making 100,000 panels, she said.
If you want to help the people affected by Japan's tsunami, at the end of May, five employees from Sharp Electronics in the UK will set out to cycle the exact route of the epic Giro d'Italia, raising funds for the hundreds of thousands of people affected.
Donate at http://www.redcross.org.uk/japansharp