VisitEngland, the national tourist board, is set to modernise visitor information by publishing its content on mobile devices. VisitEngland will use location-based GPS functionality to deliver relevant content on destinations, attractions and days out.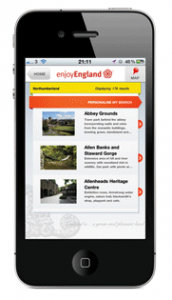 The free 'Enjoy England' app will first be available for the iPhone and was created by mobile business and marketing solutions company 2ergo.
The tourist board's first iPhone app, offers over 1,000 fresh ideas and information on unmissable places and attractions to visit in England.  Users can personalise their search according to indoor or outdoor activities, or the most popular 'must-see' things to do, and those sticking to a budget can be inspired by hundreds of free ideas.
Each result comes complete with a Google Map location.  Users are encouraged to share their experiences and upload suggestions to the interactive map.  The Enjoy England iPhone app also includes free access to travel content and readers' tips from The Guardian newspaper and great ideas from enjoyengland.com.
Tim Holt, Senior Marketing Manager at VisitEngland, said, "The Enjoy England app is a first for the tourist board, offering visitors over a thousand ideas on the best that England can offer. To remain competitive on the world stage we must ensure the quality of our visitor information online, via mobile technology, and in-destination is the best it can be. This is the start of a modernisation programme that will ensure visitors get the very best out of their trip in England."
John Stevens, Joint Managing Director at 2ergo, said, "The travel and tourism sector is perfectly placed to benefit from a mobile technology guide, allowing all organisations – from hoteliers, travel agents to visitor attractions – acquire new customers, build loyalty, undertake promotions and engage with their audience".
He added, "The app is a great tool to benefit consumers and help them to get the best out of their holiday in England."