SK Telecom announced the launch of a pilot test for Smart Cart in China. Smart Cart – we'd say shopping trolley, Ed is an innovative service that uses a smartphone and a smart shopping cart equipped with tablet PC to offer diverse shopping-related information based on accurate indoor positioning technology. The company said the pilot test will begin today at the Shanghai store of Shanghai Lotus Supermarket Chain Store Co., Ltd.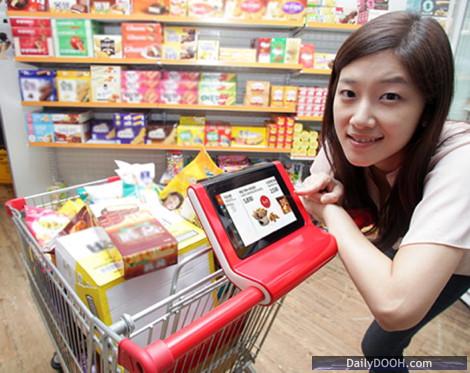 Whilst we have seen plenty of other carts / trolleys go digital, see MediaCart, Microsoft and Wakefern's "Next-Generation Digital Grocery Shopping and Ad Experience" and indeed 'Cabco's TV Kart', SK Telecom's Smart Cart is the world's first shopping cart service that utilizes smartphones to provide information gathered through indoor positioning technology.
Unlike previous RFID-based cart services provided by retailers that only showed product information and discount offers within stores, Smart Cart – through synchronization with smartphones – provides a wide variety of shopping tips, product information and discount/ special deal information in real time based on indoor positioning technology.
After downloading the Smart Cart application to their smartphones, customers can search for shopping/discount information, store coupons and draw up a shopping list. Then at supermarkets or retail stores, the customer's smartphone is synchronized with a tablet PC installed to a smart shopping cart through user authentication. Within the stores, depending on their location, customers can get useful information – e.g. catalogue, product information, discount information, etc. – and receive coupons using augmented reality