Adrian J Cotterill, Editor-in-Chief
This Saturday some of our UK based folks and myself will be on a plane heading off to New York City for a Sunday relaxing and sightseeing, a co-chair dinner on the Sunday evening, two days of #DSinvestor and a day of the DPAA Media Summit and a whole raft of other meetings in between and around.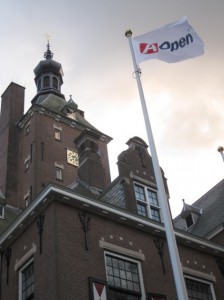 We've been waiting for next week for some time and are really looking forward to meeting the 100+ folks already registered for #DSinvestor and we think the 400+ folks lined up to attend the #DPAAmediasummit.
We have been given tight deadlines now on our two book projects; 'The Book of Shapes' and one other and time is precious (and short) and it looks very much like we won't be able to make it to #viscomdus this year which kicks off this Thursday 13th October.
#viscomdus is fast becoming a must-attend event if you are interested in digital signage in the German speaking marketplace and the digital signage part of it keeps on getting better every year. We really hope that one year OVAB Europe take note and throw in their support rather than seemingly concentrating their events around everything invidis and Munich related.
Last week saw me do several trips where I ended up just flying, speaking, drinking, eating and flying home again – the best of which was the invitation only AOpen Partner Forum. I got to speak for one hour and fifteen minutes this time at the end of their first day. As Damon Crowhurst who was there representing Scala said "this man's presentation seems to get longer and longer every time I hear him" – he was of course referring to my hour long keynote at #scalaconf in Amsterdam only a few weeks back.
We got to meet the top man at A/Open and most of their European staff and key partners – from a software perspective Scala were there but also
Friendlyway Inc
. (big in the kiosk marketplace in Germany especially) and
Net Display Systems
(likely leader in FIDS we'd expect). We also saw several new product concepts that we are not allowed to discuss (2 out of 3 to us looked exceptionally good) and got to meet their product marketing folks.
I was impressed that AOpen have well over 400 staff worldwide. I always thought that AOpen (who have great brand recognition in this space) were punching above their weight – having met their people, their partners and seen their roadmap I would say that they are quite simply 'punching their weight'. We certainly liked what we heard and what we saw.
I also came away winning their International Poker Tournament which was an added bonus 😉