Adrian J Cotterill, Editor-in-Chief
The Out-of-home Video Advertising Bureau (OVAB) European chapter was announced today and although we have a couple of reservations and a few words of warning we are VERY excited about what this organisation might achieve going forward.
First of all, OVAB Europe is at the moment pretty **German centric. That's not an issue nor surprising given the founder members…
Neo Advertising
Invidis Consulting
ECE Flatmedia
IBM Deutschland
PHILIPS
NEC Display Solutions
Minicom Advanced Systems Ltd.
**Minicom and Neo will argue that they are in Switzerland but this is primarily being driven out of Neo in Hamburg and the rest of the founders are German based.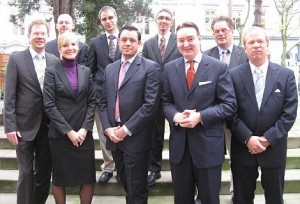 There are plans of course to have coverage in each European country and with the likes of Neo Advertising helping to drive this that probably won't be too much of a problem – nor will it take that long for it to get sorted.
There are probably two main reasons why OVAB Europe has come about – the first and foremost is obviously that OVAB in the US has done such a fantastic job and secondly because POPAI, especially in Germany has not!
POPAI is as good as the local people in each country who run it (and the commercial organisations who support it) – in the the UK for example, not bad, in Germany absolutely AWFUL!
OVAB Europe will compete squarely with POPAI as it aims to be 'the first European centric representative of the interests of providers and suppliers of audio visual media at POS and POI' as well as the 'central point of contact and information source … to the existing digital out-of-home industry'
The Board of OVAB Europe consists of Dirk Hülsermann (Chairman or President), Ronni Guggenheim (Vice Chairman) and Richard Malley (Treasurer).
Dirk of course is from Neo Advertising, Ronni from Minicom and Richard (probably the least known of the three) is from ECE Flatmedia (ECE are a shopping mall owner and previous Neo customer).
We spoke to Dirk this morning and he told us "Today marks an important date in the still short history of the digital out-of home industry in Europe. With OVAB Europe, an industry with such a tremendous future in front of it now receives the representation it deserves by the entire industry"
Have no doubt that this is an exciting announcement and just the first of many. At the moment OVAB Europe has no relevance to the media planners, buyers, ad agencies, retailers and the like AND that obviously needs to change.
Two of the founder members are 'media owners' which is a great start but there are other members whose interest is purely technical (and commercial) of course.
OVAB Europe now needs to quickly demonstrate what membership would mean to other media folks and get them on board.
About Richard Malley

Richard Malley was previously Managing Director of the YOC AG in Berlin. Since its founding, he was responsible for the strategic development of the company and for national and international distribution. Before that he worked at CIAO.COM AG in Munich in its International Business Development/Distribution group. After completing his studies for his BA in international business/marketing in New York and Brussels, he worked at Kynast AG in New York and subsequently at Emmerson Communications AG in Frankfurt/Main. Richard Malley is responsible at flatmedia for the distribution and strategic business development.