Adrian J Cotterill, Editor-in-Chief
Here's last Monday / Tuesday's Strategy Institute Digital Signage Investor Conference in numbers and a few words about the 'international' attendance …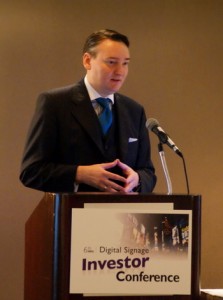 469 tweets from 77 users (a core of 30 users tweeted more than twice)
132 attendees (50% repeat attendees from 2010, 30% of all attendees were investors)
25 speakers
10 leading international digital media companies
5 panels
2 chairmen
1 speed networking session
1 DPAA President
1 OVAB President
and err, ein Mann, der einen Hund rettet!
For once the audience was VERY international – we had a large contingent of Brazilians (twelve in total and not all from the same company and of course we had Felipe Forjaz from network Elemidia speak as well). Also present were several Australian networks, quite a few from India (particularly nice to see Gaurang Shah from Digital Signage Networks from Mumbai) and Neil van Wouw from Tokyo.
Judging by the questions from the audience there were many content companies in attendance, amongst them the mighty Philip Cohen.
Software companies too were well represented with the UK's David Dalzell from ONELAN and BroadSign's Brian Dusho being the most visible (ComQi's Ajay Chowdhury was an excellent panelist, so too Paul Rawlings from Screenreach).
This was quite simply the best ever investor conference we have held. It will probably go down as the best conference of the year.
One investor from Barclays Capital told me "I could get 20 investors along to this event easy as it was so good, informative and professionally run" and so next year I believe that the stretch goal for attendance should be 250.