Adrian J Cotterill, Editor-in-Chief
Ah ha! The 'Big UK Retail Rollout To Be Announced' that we wrote about late last week turns out to be a Thomas Cook in-window digital signage network by UK digital signage agency Pixel Inspiration.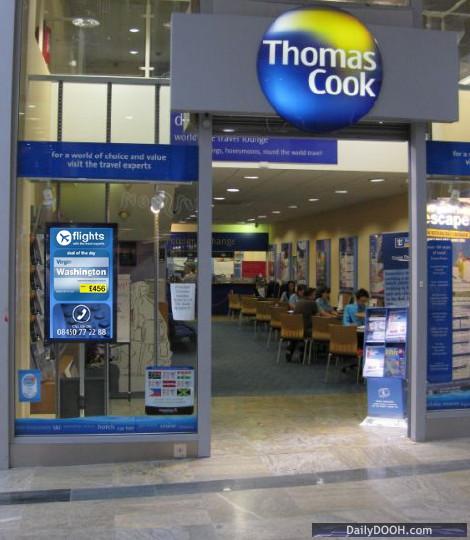 This network we believe represents one of the most SIGNIFICANT of its kind by a UK travel agent to date and is actually pretty impressive for any high street retailer – both in size and ambition – the network in total will cover over 82 of the travel agent's prime UK retail locations.
Pixel Inspiration who only last year rolled out a similarly impressive retail window network for human resource company Adecco can now add Thomas Cook to a growing list of impressive brand names as customers that include the likes of Hewlett-Packard, Millennium Hotels, The Institute of Directors and Manchester Airport.
This is also a nice win for Coolsign and for Sanyo – we believe that the latest LCD displays featuring sunlight readable Transflective screen technology are being used.
Simon Robinson, Executive Director of Distribution, Thomas Cook, told us "Consumers habitually use the internet to research holidays and seek out the latest and most competitive prices, therefore it's imperative that the information we display in store is up to the minute accurate"
Pixel Inspiration's solution enables Thomas Cook to update the information across the window displays instantaneously, offering customers the latest prices and holiday information the minute it becomes available. The screens for example, communicate up to the minute travel, holiday and foreign exchange offers, late deals on flights and cruises as well as information on holiday essentials such as travel insurance and car hire.
The content itself is managed by Thomas Cook's head office teams and then approved or amended by each store manager, localising the content for their own market.
From what we have seen the screens look great (there have been 15 pilot sites running this for about 3 months now) – nice content, well laid out, the screens the right way round (i.e. portrait), easy to read and no problems with daylight viewability.
Pixel Inspiration provided all of the hardware, software, configuration, content, installation and support.