Adrian J Cotterill, Editor-in-Chief
At #ISE2012 next week CAYIN will introduce in-depth digital signage integrations for different vertical markets.
Visitors, we are told, will be able to experience how CAYIN's flexible platform can be integrated with external web servers and digital devices in different vertical markets.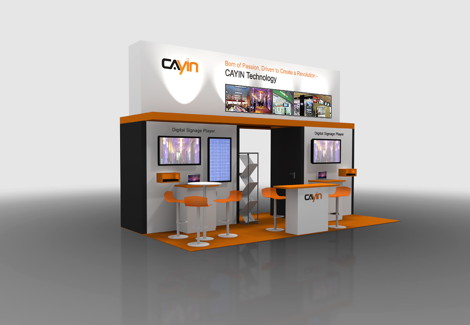 Some of the applications to be showcased by CAYIN include:-
CAYIN Digital Signage and 3G, GPS, Google Maps
CAYIN Digital Signage and Access Control System
CAYIN Digital Signage and Barcode Scanners
Cindy Lai, Cayin's Marketing Manager told us about their stand design (and you just know how we love stand design) "CAYIN hopes to create an impression of clearness and simplicity and draw the visitors' attention to our new products and the dynamic presentation on screens".
She continued "We also incorporate the logo colors, orange and black, into our booth design to reinforce CAYIN's corporate identity. Finally, we add the final touch to CAYIN's booth design with selected project photos to highlight diversified digital signage applications".