Adrian J Cotterill, Editor-in-Chief
If rVue's Mantra is 'Digital Out-of-Home Media Made Easy' why then does their latest quarterly filing show so little ad revenue?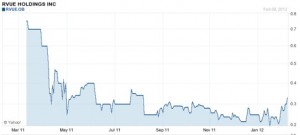 We're just asking but we thought it kinda funny – especially when we read the filing statements at the same time as some of the latest announcements from the organisers of #dse2012. We quote…
Jennifer's panel of Media Strategists, on March 6 from 11:05am – 12:00pm during the Digital Place-Based advertising summit, How Media Strategists Are Successfully Selling Digital Place-Based To Brands, is a must-attend for media buyers and networks looking to receive tips on how to help get the most out of their conversations with clients interested in DPB media
Jason's presentation, on March 7 from 3:00 – 4:00pm, Getting Noticed By Advertisers, will offer networks insight into how you can increase revenue by positioning your digital out-of-home network favorably in the eyes of agencies and advertisers
That will be those experts Bolt and Kates then.
RVUE HOLDINGS, INC. are also doing some interesting off-balance sheet deals, if you are interested then see this Form 8-K/A from 1-Feb-2012 and this Form 8-K/A from 6-Feb-2012
These guys have lost USD 4.4 million in the past 5 quarters which surely isn't good.