Adrian J Cotterill, Editor-in-Chief
As Billy Budwitz, Director, Information Systems at Rave Cinemas pointed out in a comment earlier on this site it was Christie's Managed Service team who provided the installation services for the Rave Cinemas Network.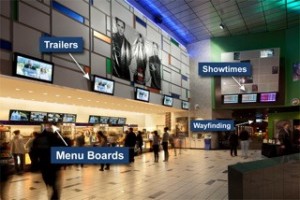 See our post 'Rave Cinemas Launches Network To Augment Theater Experience'
Billy told us "Christie Digital (Tom Clapp & team) have been providing installation services for this project from the beginning. They have been an awesome company to work with. We have found 2 truly world class companies in RDM & Christie"
We also got our hands on this (exclusive) pic which nicely (and neatly) tags all the elements of the installation. We are looking forward to both the Digital Signage Guided Installation Tour at #dse2012 and our own sneak behind the scenes look separately as well.
Looks like a great install and a nice network so big hats off to Ken Goldberg (though I am sure he had nothing to do with the clever bits) and his team!