Gail Chiasson, North American Editor
On Campus Media is staying true to its focus in terms of educational networks, but is entering the K-12 (elementary and high school) sector in addition to its college and university market.
We caught up with Scott Krantz, On Campus founding president and CEO, last week to learn what's new since the year old company partnered with
Barnes & Noble College Marketing
, a division of Barnes & Noble College, to
deliver a national digital TV network in Barnes & Noble College stores last November
.
"We have a huge potential in terms of future extension of both the Barnes and Noble network, as well as independent college bookstores," says Krantz. "We are currently in 400 of Barnes and Noble college stores. There are 850 Barnes annd Noble stores altogether. I think we'll be deploying screens in about 35 stores a year.
"And Barnes and Noble only has about 25% of the college market. So we have a lot of growth potential."
However, the K-12 market holds huge potential, too, and Krantz says that On Campus has already signed one (undisclosed) school district with 250 schools where between two and four screens will be deployed per school beginning in June to be ready for the school start in September.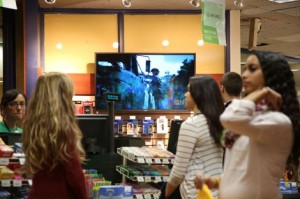 With schools being so strict in many areas regarding advertising to school-age children and young adults – if it's allowed at all – we asked Krantz how he envisioned content and revenue.
"I see it as sponsored content, for example, a health message maybe sponsored by a toothpaste brand or a message about keeping active sponsored by an athletic shoe brand," he says. "Of course much of the content will also be school messages, curriculum messages, news about sports teams and the like – and the school will be able to add messages as it wants.
"This is new and exciting, creating new content in the educational sector. We are making contacts with studios handling YouTube artists, are in talks with scholastic groups, the Cartoon network and others to see what we can develop. The screens will be located in common places such as cafeterias and quad areas where students congregate outside class time."
Content will be quite different than that carried on the college and university screens, which are approximately 60% content and 40% advertising. Barnes & Noble College stores are much more than bookstores. Rather they are a place where all sorts of merchandise is sold, and where students hang out.
"Until now, most advertising has been national, with companies like the National Guard, Dell, Axe," says Krantz. "However, we can easily do regional. We know our demographics and our strategy is to always get the content right, both at the college and school levels. We want to do everything is a responsible way. And we want to build scale."
On Campus Media has its own advertising sales staff of four. Content management for its Barnes & Noble College network is by Dynasign. No decision has yet been made for the K-12 network. Everything is handled from On Campus headquarters in Los Angeles.
On Campus Media is owned by Krantz and equity partners Huntington Partners LLP.