Gail Chiasson, North American Editor
Sport Chek opened its 80,000 square foot Sport Chek/Atmosphere store at Edmonton Mall yesterday with the goal of providing consumers with access to world leading digital technology, an unparalleled array of leading brands and products, and a personalized shopping experience that connects consumers to the sports they are passionate about.
This flagship store for the company includes over 800 screens populated by 220 channels that display product images and deals, store-wide anthems, and community walls filled with local sports information. These 800 screens are composed of 470 individual screens; 250 computers; 25 large format tabs and 80 tablets. And included in all this is more than 1,200 sq. ft. of digital projection.
A staff of 250 will use digital installations, interactive technology and product displays featuring the best brands to provide detailed and personalized service to customers.
"Our new flagship store in West Edmonton Mall is the most digitally advanced and personalized retail experience in the world," sys Michael Medline, president of Canadian Tire Corporation, owner of Sport Chek. "We have created an energy filled experience for anyone who is passionate about a great customer experience and shopping for an unparalleled array of sporting goods."
"As the provider of Sport Chek's content management system, we understand the innovation and hard work that goes into tackling many in-store technological 'firsts'", says Chris Riegel, CEO, STRATACACHE. "Digital is the next step for retail. Sport Chek understands this and with the opening of the flagship store has proven they can lead it."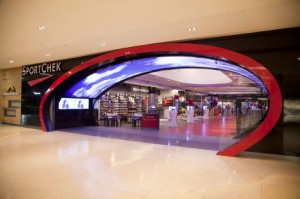 Of course, TELUS, as Telus is STRATACACHE's agent in Canada, was highly involved in this deployment.
Our readers might remember that TELUS, as STRATACHE's agent, was also involved in the highly digitized Toronto store for Sport Chek.
To highlight the interactive, personalized features of the flagship store for Canadians across the country, Sport Chek partnered with Lewis Hilsenteger of Unbox Therapy to create 'The World's Largest Unboxing Video' where the most digitally-advanced in-store features will be unveiled to his over 700,000 subscribers.