Adrian J Cotterill, Editor-in-Chief
Digital-Out-of-Home media owner Elonex has launched a new giant digital billboard at the UK's busiest motorway junction, Spaghetti Junction in Birmingham. The new digital billboard, which measures over 4000 square feet, will be known as StarLights.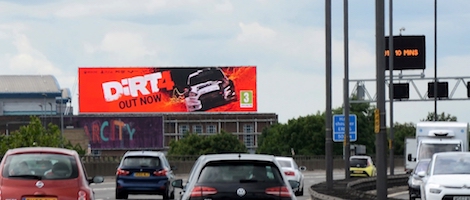 Nick Smith, CEO at Elonex, told us "StarLights is perfectly positioned to target huge audiences as commuters travel through the Midlands and on to a multitude of UK destinations. Add to that its iconic location of Spaghetti Junction and targeting the main route in and out of Birmingham, and StarLights™ presents brands with unique showcasing opportunities.
"We're very proud to add StarLights to the Elonex Digital Network and its launch strengthens our reputation for delivering large-format digital locations and for being a media owner with the ability to solely design, manufacture, construct and operate our entire screen portfolio."
Designed, manufactured and constructed by Elonex, StarLights consists of two super-size LED HDR (High Dynamic Range) advertising screens. The screens are positioned to face high volume traffic travelling both north and south at the iconic Spaghetti Junction location, the main route to and from Birmingham city centre and gateway to the entire UK motorway network.
The new giant structure is situated high above the Star City entertainment complex adjacent to junction 6 of the M6, and highly visible from incredible distances went live broadcasting digital advertisements from launch partners DiRT4, British Athletics, Caterpillar and I Saw It First.
We are told that StarLights will deliver more than 40 million audience advert impacts every month to become the most seen digital advertising site in the Central Region, and further adds to the ever growing Elonex portfolio of large-format Digital-Out-of-Home advertising screens at prominent locations across the UK.
Elonex also announced StarLights will be partly solar powered to acknowledge a new dawn at the former site of Birmingham Power Station where its positioned within the Star City complex, and to provide a modern, clean and environmentally friendly means of power generation.
… and as if by coincidence, up next in our CEO Spotlight (the last Friday in every month) is Elonex Outdoor's Nick Smith.