ONELAN, a global leader in digital visual communications, has established a partnership with NFS Technology Group, an international technology company, to deliver a powerful combination of enterprise room booking, resource booking, interactive room signage and digital signage.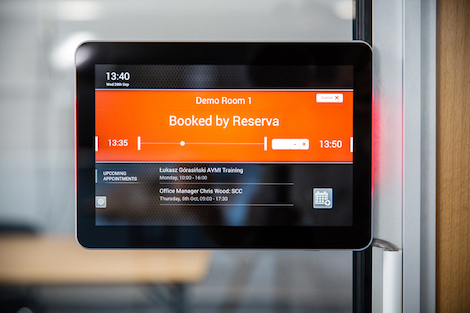 As part of the initial roll-out, ONELAN's Reserva Room Signage range integrates with NFS' Rendezvous Workspace room booking solution. Reserva room signs display real time information for meetings scheduled in Workspace, whilst also providing an interface to book a meeting directly from the display.
Where tools such as Microsoft Exchange are insufficient, Workspace enables organisations to efficiently manage meeting rooms, desks, car parking, visitor management and vended services such as catering, AV, IT and video conferencing.
This unrivalled combination also delivers another significant benefit as the Reserva Room Signage can be used in combination with the ONELAN CMS to become an integrated part of the digital signage network. This allows users to display corporate communications on their room signage and show information relating to meeting schedules within large format digital signage.
Jeremy Copp, CEO at ONELAN told us "We're excited to be working with the team at NFS Technology with the partnership between Reserva and Workspace bringing a best-in-class solution to corporates. He continued, 'With the growing demand for smarter working, room booking and room signage solutions are increasingly important to organisations looking to improve their workspace utilisation and deliver return on investment".
NFS Technology Group is a leading international provider of scheduling software and event management software solutions to help a wide range of businesses drive up the efficiency of their workspace utilisation, improving productivity and smoothing operations.
Rendezvous scheduling software – which integrates seamlessly with Outlook – is used by leading law firms and major corporations in more than 25 countries for booking meeting rooms and conferences, along with video conferencing management.
Luis De Souza, NFS CEO said "This strategic partnership between our two organisations combines the flexibility of Workspace with the simplicity of Reserva providing a unique offering to our customers. We look forward to further market-shaping technological developments as we continue working together."
Reserva Room Signage and NFS will be on the ONELAN stand at #ISE2017 stand 8-F275, Hall 8.