Leading Russian PADS4 system integrator AUVIX has created an award-winning retail project for Ulmart, one of the fastest growing e-commerce companies in Russia.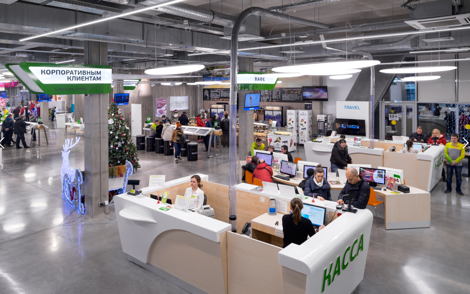 This project won the 'Project of the Year Award' at the Business Video Event 2017, organized by Russian IT magazine 'LAN' in Moscow, Russia.
Ulmart, a leading Russian online retailer, sells both food and non-food in more than 240 cities in Russia. As part of the company's strategic plans, Ulmart has developed four next-generation multifunctional distribution centres. It is the customer as a major decision maker that calls for a more integrated approach to logistics.
Customers choose from a range of delivery methods, from home delivery within 2 hours to independent pickups at an outpost. Customers can also come to these fulfilment centers 24 hours a day and seven days a week to buy goods and talk to experts.
To meet the new strategy towards customer service Ulmart added a modern digital signage system to the in-store concept. Now they have a very effective solution to attract new customers, increase loyalty and quality of service.
The number of employees involved in the fulfillment centers is minimal. All necessary information should be easily accessible, and the content management system should be efficient and convenient to operate. PADS4 has been integrated with Ulmart's ERP system on the SAP platform. That integration results in a dynamic table of orders and displays information on screens. The number of screens is determined automatically depending on the peak of sales. On the displays that are not in use for pick-up information, various information and advertising content is shown, depending on the popularity of goods.
Igor Kuzmenko, Head of Products department of Ulmart said "One of the Ulmart's rules of work is low cost of goods, and high quality of service is also a must. Our new Digital Signage system solved all our problems. We can inform our customer, we can use this system as navigation in the mall and it is just modern effective element of information space in shop."
We are told that igital signage is getting more popular by the day in the Russian retail market.
Alexander Pivovarov, Head of Digital signage department of AUVIX told us "The market leaders, such as Ulmart, increasingly select digital signage to create modern communication solutions. They realize digital technologies allow them to attract attention, deliver information and key messages to their consumers. It is really popular and effective in the European market and we expect that Russian retail chains will also choose Digital Signage for their digital communication needs".
The implemented Digital Signage project created by AUVIX uses PADS4 Software, LG professional screens, PCs and communication equipment by Extron.