Gail Chiasson, North American Editor
This month, we welcome Kevin Carbone, PRN, San Francisco.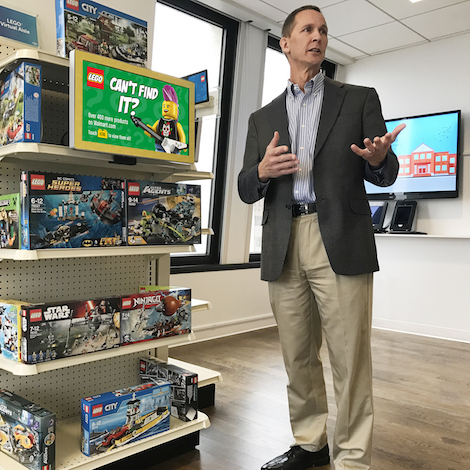 You joined PRN in 2012, holding a couple of senior vice-president positions before being named CEO. Please tell us about your pre-PRN background and what you especially learned from your position in each company.

My career spans my early experience as a management consultant for the Boston Consulting Group to several senior executive positions in the Silicon Valley, all of which shaped how I view business and how I lead my teams and organizations.

The consulting experience gave me early and sustained exposure to a variety of companies and industries dealing with different forms of internal or external market disruption. I learned very quickly that an organization can never allow itself to become comfortable with the industry position it occupies, no matter how dominant that position might seem. We all know that circumstances, market conditions and technology can change very rapidly, so the organizational commitment to innovate and reinvent, if necessary, is paramount. This is as true today as it was then.

As president of a leading digital agency in the Silicon Valley, I served many of the largest tech companies, including Cisco, HP, Intel and AMD. Our speciality was in developing and delivering high-end digital and video-based solutions at a time when the adoption of video as a marketing and communications vehicle was just beginning. We were one of only a few agencies capable of providing the high quality these clients demanded, so we were paid a premium for our services. At the same time, however, marketing organizations began to demand more from us as they increasingly and correctly placed greater emphasis on the specific performance and measurability of their marketing and sales tactics. With the sudden availability of digital and online campaign measurement tools, I learned very quickly the strategic imperative of making performance measurement a fundamental part of every solution we brought to our clients, an approach we use at PRN today.

Immediately prior to joining PRN, I was a co-founder and CEO of a virtual events software company serving large Fortune 1000 companies. We grew the business rapidly, but our biggest challenge was in balancing the need to address the specific product demands of our largest customers with the need to invest appropriately in our long-term product roadmap, two things that often seemed very much at odds. But I realized then, and I know for certain now, that the magic is in figuring out how these objectives can work harmoniously together to produce a better product that meets the needs of both large customer and broader market. The secret to success is involving key customers in the software development process – ie. feature input, early beta access, select customizations – while communicating unambiguously the importance of maintaining product development integrity. Companies that innovate and emphasize continuous improvement in the software and services they provide, as we do at STRATACACHE and PRN, understand and embrace this inherent challenge and view it as a positive and integral element of the product development process.

You were named CEO with the mandate to improve overall performance and to prepare the company for eventual sale. PRN had an excellent reputation prior to it becoming IZ•ON. Then what went wrong?

A variety of circumstances, some self-inflicted and some external in nature, began to erode PRN's reputation. Certainly, the great recession of 2008/09 had a negative effect on industry advertising spend, which, in turn, impacted the DOOH space. But the recession also exposed the flaws in the space, including the questionable business models pursued by many network operators, the unrealistic promises made to venue owners by many of these same operators, and the resulting loss of credibility that affected all providers, including PRN.

More significant to PRN, however, was its 2005 acquisition by Thomson/Technicolor, the resulting shift in business and technology strategy, and the out-of-court settlement with Walmart that set PRN on a course from which it could never fully recover. In this context, and given the challenges brought on by the recession, the decision to change the name from PRN to IZ-ON Media reflected an attempt to expand outside of PRN's core retail business in the hopes of building a media property serving venues across multiple vertical markets. In reality, PRN simply moved away from what did best: serve retailers and their shoppers. Predictably, the business struggled, and in 2014 we returned to our focus on serving the core retail customers upon which the business had been built. In 2015, we doubled down on this strategy to more aggressively re-build our business and prepare it for a possible sale.

We know that, once you took over, you reorganized the leadership team, developed a strategic growth plan, reduced overhead, and negotiated key customer renewals to stabilize the business. How did you tackle that?

In a certain sense, my approach was borne out of necessity. By the time I was appointed CEO, we had already experienced several consecutive years of declining revenue, had lost some very important customers, and had seen our product innovation grind to a halt. And despite the obvious decline of our business, the staff had remained fairly large and somewhat unwieldy. We tended to behave more like a large company and less like a start-up, so decision-making was slow, communication more formal, and new product innovation largely non-existent.

As a result, my first set of actions upon taking the CEO role was to reduce the size of the executive team, broaden each member's influence on the organization and turn our focus to decision-making and action. We restructured our operations in order to both lower overhead and free-up investment for areas critical to top line growth. We established three simple objectives for the year (not five or six) and we committed, as a team, to holding ourselves accountable for achieving those objectives. We were extremely open and honest with the entire staff about the severity of the challenges we faced and, in return, sought their commitment to helping turn things around.

In essence, we forced ourselves to be more decisive while freeing ourselves to take more action, and in the process involved the entire company. These actions and the commitment of the entire team were critical to our stabilizing the business in early 2015 and exceeding the targets we set for ourselves in 2015 and 2016.

What is the main reason, from your point of view, that the company was purchased by STRATACACHE?

PRN's core strength has always been in delivering engaging in-store consumer experiences and in successfully operating monetized or advertising-based networks for our retail customers. We've done this far more effectively and for a much longer period of time than anyone else in the space ever has. STRATACACHE not only recognized the unique value in this, but also recognized the enormous potential in expanding this model across STRATACACHE and combining PRN's capabilities in this area with STRATACACHE's technology and operations leadership.

I've seen you described as a genuine leader and team builder; that you command attention and get results. What main qualities do you think a good leader must possess in order to maintain and grow a business?

More than anything, I believe a leader needs to be authentic. In other words, be yourself, know your own strengths and weaknesses, and be secure enough to surround yourself with highly talented and smart people who share your values and vision for the organization. I've always encouraged honest debate and dialogue – not only from my executive team but from all employees of the company. In my view, consistent and sound decision-making follows and leads to great execution.

In tandem, an effective leader needs to communicate a clear and compelling vision of what we want to achieve and how we want to achieve it. At PRN, we know, for instance, that we want to continue to bring new personalized in-store solutions to shoppers on behalf of our retail customers and brand partners. To do this, we have to remain committed, as individual employees and as an organization, to creating and testing new solutions on behalf of our customers and to leveraging the very best technology to support them.

In addition to PRN, STRATACACHE has purchased Scala, Real Digital Media, ActiVia Network, PrimaSee, OPTIKA, and a couple of other companies. Where does PRN fit in the mix? What does PRN offer these other companies and what does it gain from them?

PRN offers a proven business model based on brand advertising and network monetization – the classic model upon which PRN was built – and we support it with a full set of organizational capabilities and a deep knowledge base borne of experience. This gives other groups within STRATACACHE the potential for new revenue. It also provides the option of business model flexibility – that is, the ability to offer customers alternative ways to fund large-scale network deployments. This has proven very powerful in the almost two years we've been a part of the STRATACACHE family.

Conversely, other divisions within the STRATACACHE family have taken the opportunity to provide technology solutions to the networks and retail partners PRN already serves. Activia, for instance, delivers a full-featured, highly scalable software platform PRN can both incorporate into our existing networks and deploy into newly acquired ones. PrimaSee offers an altogether new display solution PRN can now offer its grocery and convenience customers.
As STRATACACHE continues to grow through acquisition, I expect additional opportunities to arise.

Under STRATACACHE as the holding company, do you have management independence? Can you continue to do your own research?

I would describe it as management autonomy, which means we're expected to execute against our own business plan, manage our own P&L and be both responsible and accountable for growing our business.

To be sure, we work very closely with the holding company to make sure our strategic objectives are aligned with its own, and we take full advantage of opportunities to share and deploy centralized resources in the most efficient and cost-effective manner. However, we still do research at PRN that serves our retail and brand clients and supports our specific business model.

When PRN joined STRATACACHE, you talked about it gaining "significantly expanded technology capabilities." Could you elaborate?

At its core, STRATACACHE is a technology and marketing services company that invests heavily in technology innovation, testing and commercialization. PRN designs, tests and implements in-store solutions that engage shoppers. So becoming part of STRATACACHE gave us immediate access to a vast array of innovative technology, including all-in-one touch screen tablets with forward and rear-facing cameras, increasingly powerful and flexible media players, and feature-rich and highly scalable content distribution software for supporting and enabling several new in-store solutions.

How many locations does PRN have and how many screens in total? Have you added any networks since the STRATACACHE purchase?

PRN serves over 7,000 locations. Since being acquired we've added almost 4,500 new locations through our acquisition of the Lift Network from Verifone and our representation of the Pursuant Health & Wellness Network at Walmart.

Please explain PRN's The Store of NOW.

The Store of the Now elegantly describes all of the solutions that STRATACACHE, with its breadth of technology and extensive operational capabilities, now capably delivers to the market. Fully tested, fully commercialized, in-store solutions that are deployable today, at scale, and that drive positive returns on investment for our retail customers.

These solutions encompass a variety of technologies across all major touch points within the store, including in the aisle, at the end cap, above the department, in the fresh food and deli areas, at the TV Wall, and at checkout. More importantly, these are solutions that can be deployed and will deliver positive return on investment across entire large chains of stores, not simply confined to a few number of concept stores or 'stores of the future'.

I believe that the Store of NOW mainly involves grocery stores and QRS locations. Can the concept be applied to such retail outlets as clothing boutiques and department stores?

Absolutely. Whether a retailer is large or small, carries multiple brands or sells only its own, or is seeking to address one specific area of the store or several, the right solution deployed with the right technology, at scale, will drive a positive return on investment. It's about matching the solution with the specific need and scoping and sizing it appropriately.

Are you using programmatic buying for your networks? Please give us your thoughts on programmatic.

Using programmatic at retail presents some unique challenges, so to date we've only experimented with it. The key to greater adoption is in removing some of the friction at retail that can slow or obstruct the purchase/placement/proof-of-performance cycle of in-store digital brand advertising. The need to secure retailer approval for most in-store advertisements and the challenge of matching on-shelf product SKUs with placement inventory are just a few of the challenges. Other challenges include committing inventory in real time, retailer restrictions against non-endemic services, and the current platform models that devalue inventory while demanding too great a share of ad revenue. We do believe that programmatic offers the promise of greater buying and selling efficiency, so we will continue to experiment.

Are you incorporating mobile with any of your DOOH networks? If so, are any other STRATACACHE-owned companies involved?

It's accurate to say we're actively testing mobile across a handful of our networks right now. Depending on the network, these tests either involve re-targeting, via mobile, those shoppers who've seen our ads in-store, enabling real-time in-store mobile on-ramping, or enabling shoppers to push content to large-screen via WiFi. In some cases we're coordinating with other STRATACACHE-owned companies; in others, we're working with 3rd party vendors.

Please tell us about Checkout TV and how it's used.

Our traditional Checkout TV networks were originally deployed to educate and entertain shoppers while they waited in line. Over the years, the concept evolved to incorporate the mission of selling front-of-store services, driving return trips and encouraging future purchases, and providing an on-ramp to a retailer's broader eCommerce and mobile ecosystem. Today, we offer a variety of Checkout platforms, including our new Lift Network that delivers, in real-time, targeted upsell offers based on actual shopper purchases.

PRN's blog has a really good explanation of 4KTV. It mentions its use in 2015 by Costco to illustrated different TVs and brands. What was the result?

From our view, it's been very successful. Costco has been a great partner on this initiative. After the initial deployment in 2015, it moved quickly last year to further expand the 4K side of the Costco TV Network, and the number of 4K SKU counts relative to 1080p HDTVs appears to have grown faster than originally planned. Membership response to the program also appears to have been positive, with most members finding programming helpful and influential when shopping for 4K TVs and for comparing 4K to HDTV. It's fair to say we're very pleased with how this initiative has evolved for Costco.

Culture and core values seem to be important to PRN. Please explain. Have they changed at all under STRATACACHE?

We've always had a customer-centric culture at PRN. Seeking customer input, working diligently to address customer needs, and maintaining a commitment to delivering the highest customer satisfaction is central to the culture at PRN, just as it is at STRATACACHE. Fundamental to our culture, as well, is how we work: with honest and open dialogue, transparency, and accountability. It's how we managed to persevere and succeed during difficult times, and it's how we are thriving as part of STRATACACHE.