Adrian J Cotterill, Editor-in-Chief
Stadia Solutions, the full-service sports agency, and Elonex, the digital-out-of-home media owner, have collaborated to help Blackburn Rovers Football Club increase their revenue stream, with the launch of a new external digital billboard at the club's 31,000 capacity Ewood Park ground.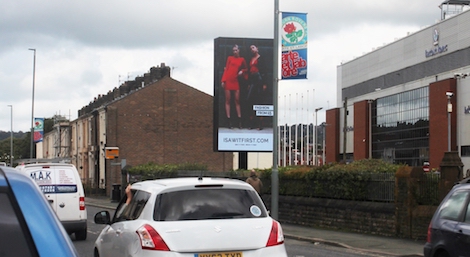 James Cook, Commercial Director, Stadia Solutions told us "This installation is a 'no-cost' solution for Blackburn Rovers. It will allow the club to generate extra income through the promotion of events and publicising club partnerships on the road-side screen. The club also earn an income from advertising sales revenue. The screen is now fully operational and the club has regularly used it to promote events and ticket sales to a wider audience. As football clubs across different leagues look for new and innovative ways to drive revenue, utilising the club's prime location to create advertising opportunities is one solution."
The new digital billboard is dual-sided and features two 4.2m x 2.4m LED screens, which each utilise Elonex P8 High Dynamic Range Technology to broadcast engaging advertising content.
Greg Coar, Commercial Director, Blackburn Rovers, commented: "The new screen at Ewood Park will help us expand our advertising and sponsorship opportunities. We are delighted to be developing our working relationship with Stadia Solutions and partners, and I'm excited by the opportunities the big screen can bring to our club and potential advertisers. We are looking forward to the new season with optimism about our on-pitch and off-pitch performance.".
Strategically positioned outside Ewood Park to target high volume traffic travelling to and from Blackburn town centre on the busy A666, the new and permanent Digital Out of Home structure has been live since the start of the new 2017/18 football season carrying advertisements from many local and national brands.
Nick Smith, CEO, Elonex added: "This new installation at Ewood Park is an exciting addition to our digital estate and presents huge opportunities for advertisers to effectively reach large audiences in Blackburn. The big screen will be of great benefit to brands of all sizes and further strengthens our reputation for delivering new, innovative and revenue generating solutions in the Digital Out of Home and Sports Advertising marketplace. Using our reputation as a leading innovator in the digital-out-of-home marketplace we hope to attract a wide range of local and national brands to make the most of this exciting new opportunity in Blackburn."
Installations like this, no doubt, provide clubs and advertisers with a new opportunity to generate revenue and to think of new and creative ways to market the club.