Russ Curry, Ministry of New Media
The Advertising Association, the IPA and ISBA are collaborating on their first joint industry conference – RESET 2021 – which will take place on January 28, 2021 to mark the beginning of a critical year for UK advertising.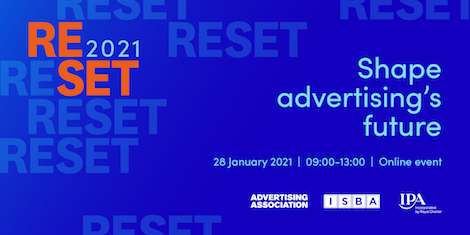 The event is for all advertising professionals across brands, agencies, media owners and tech platforms and will look at how the industry can support the UK's social and economic recovery, how it deals with the repercussions of #COVID19 and how it can deliver on the mission to rebuild public trust in advertising.
A stellar line-up of speakers from the advertising and political landscape will join the associations' three Presidents – the Advertising Association's Keith Weed, ISBA's Peter Duffy and the IPA's Nigel Vaz who will all explore the key themes central to the future of every person working in UK advertising. RESET 2021 will run online 9am-1pm and tickets will cost £59 for members, £99 for non-members and a special rate of £29 for under-30s.
Keith Weed, President, Advertising Association, said: "Our country and industry has never faced such disruption during peace-time, nor has it had such a vital role in how business and society responds to a unique crisis that affects us all. We need a combined effort across the advertising landscape to do everything in our power to be the very best that we can be. RESET is the moment for all advertising professionals to gather and focus on how we emerge stronger in order to help our country and economy recover and rebuild."
Speakers include: –
Alessandra Bellini, Chief Customer Officer, Tesco PLC
Alex Mahon, Chief Executive Officer, Channel 4
Beth Rigby, Political Editor, Sky News
Julia Goldin, Chief Marketing Officer, Lego Group
Karen Blackett OBE, UK Country Manager, WPP
Keith Weed, President, Advertising Association
Nigel Vaz, President, IPA; Chief Executive, Publicis Sapient
Peter Duffy, President, ISBA; Chief Executive, Moneysupermarket
Steve Hatch, VP, Northern Europe, Facebook
RESET 2021 will explore three key areas during its four-hour programme:
The Recovery – how advertising can support the UK as it deals with the fall-out of COVID-19 and moves to a new role with Europe and the rest of the world.
Lessons Learned – the lessons from the coronavirus crisis that we must recognise and embrace to emerge stronger as an industry.
Public Trust – how we make the system change that we need to deliver on our mission to rebuild trust in our industry and improve the advertising experience for the public.
Tickets are now on sale and can be bought online here. RESET 2021 replaces the Advertising Association's LEAD conference and ISBA's Annual Conference in the 2021 events calendar.
@Ad_Association @The_IPA @ISBAsays