Adrian J Cotterill, Editor-in-Chief
Our team hotel for The DailyDOOH Investor Conference, #DPAA2013 and New York Digital Signage Week in general in a few weeks time is the YOTEL New York.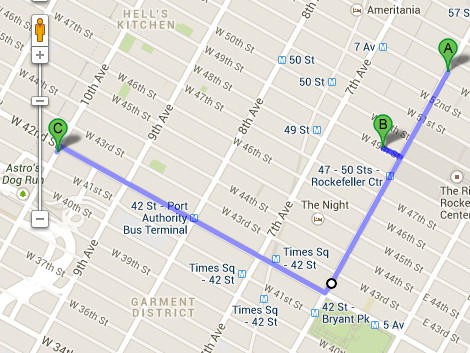 Note: A is the DPAA Summit, B is The DailyDOOH Investor Conference, and C is HELL'S KITCHEN !!!!
We suggested that hotel in our post way back now in January 2011 '#NRF New York New Hotels' and have stayed there a few times since.
Featuring 669 cabin rooms it WAS the largest hotel opening in 2011 in New York.
We've always enjoyed playing with their YOBOT, described as "the worlds most radical approach to storing left luggage" and as "fun, efficient and only the beginning of baggage management …"  – i.e. the T-Tech by Tumi Luggage Lounge lets you safely store your bags before check in or after check out so you can make the most of your visit 😉
That and the Airport style check in and out (we quote "auto and assisted by our crew 24/7") and 'Mission Control' – their version of a concierge desk for a one stop service, shop and snacks will make a great New York Digital Signage Week even more interesting and exciting.