Adrian J Cotterill, Editor-in-Chief
Whilst in NYC for #DSinvestor, the PRN Upfront, and the #DPAAmediasummit we also got the chance to attend our second NEC Showcase of the year (the first being the UK event held at Battersea Power Station back in April).
In North America we believe that these events are also held in Atlanta and San Francisco.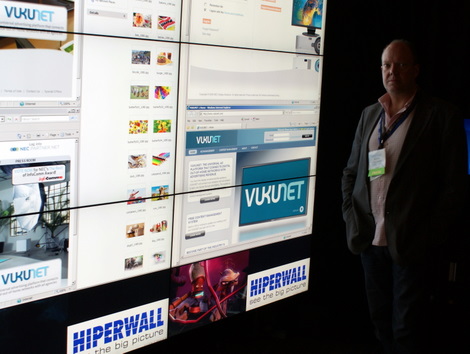 A couple of things at the event that we noticed which are worth a mention include;
A product engineer from Tokyo demonstrating a very early doors Android based digital signage player. That was okay but what was really cool was the control system they had built for tablets (Android only at present) which could mirror the signage player and remote control it. Demonstrated was a simple way to use the tablet to throw content on a videowall powered by the signage player (something we suggested to both Christie and Prsym a long time ago).
A 3 x 3 Videowall made up of 55″ LED backlit LCDs (shown above) with Open Pluggable Specification (OPS) PC's driving each screen. The colour reproduction was SUPERB so NEC have obviously been working on the Gamut Chart. The video wall was powered by Hiperwall. Content slightly let it down as, whilst it demonstrated the colour really well, it didn't really show what Hiperwall offered the system nor did it put the content into context. A job for our friends at Arsenal Media here we think.