Adrian J Cotterill, Editor-in-Chief
According to our archives (and notes) June 2009 was the last time we saw Magink anywhere – that was at InfoComm in Orlando.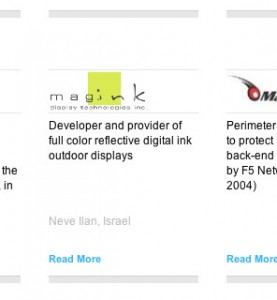 We wrote then "Magink were serving up their next generation of full color reflective digital ink displays but with their travails in the outdoor media sector of the past we doubt they will have much impact going forward unless they do something really radical in how they promote, market, brand and sell it".
Well they didn't (do anything special) and they could well have disappeared completely unless anyone knows any different.
Emails bounce back and we note that www.magink.com no longer seems to point anywhere.
Magink was 'mainly' a JVP Funds Company but if you take a look at http://www.jvpvc.com/funds-portfolio they haven't made the effort to remove it yet!