Adrian J Cotterill, Editor-in-Chief
The first day of #InfoComm12 saw nearly 2,000 tweets (up 30% from same day last year), day two proved just as strong with almost as many tweets as Wednesday and day three (the last day of course and traditionally the weakest in terms of twitter) saw 1,350 tweets.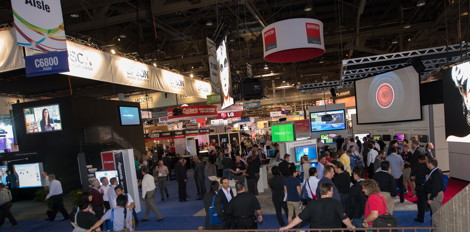 The leader board in terms of generated twitter traffic stayed pretty much the same from the off, and there was no one else anywhere near the top three: –
Gary Kayye and his team, @rAVePubs
Twitter traffic in general was up 16% on last year but the big news this year was that we had much better single hashtag usage.
Some of you may remember that last year the twitter was split terribly between two hashtags, see our #InfoComm11 Hashtag Analysis here, this year we are pleased to report that 90% of all twitter was using the correct hashtag.
Most interesting though we think is the comparison between this year's twitter and that in 2010 – attendance obviously hasn't climbed dramatically (see below) but if you compare twitter traffic this year with the last Las Vegas event in 2010, the number of Tweets has nearly DOUBLED and the actual number of those who tweeted ('users' for the want of a better word), is well over double!
The final official show attendance was 34,286 – the organisers report that figure is up 4% from previous year(s).
The attendance for #InfoComm11 held in Orlando was 33,001, whilst the attendance for the more comparable #InfoComm10 (i.e. held that year in Las Vegas also) was 32,002.
Interestingly though, the attendance for #ISE2012 held in Amsterdam was a whopping 40,869.