Adrian J Cotterill, Editor-in-Chief
A rumour in earlier this week, which quite frankly we forgot about with all the industry CEO departures and (separate) shenanigans going on at RMG Networks, was that Ayuda Media Systems has deployed its digital signage product Splash to a major North American place-based media operator.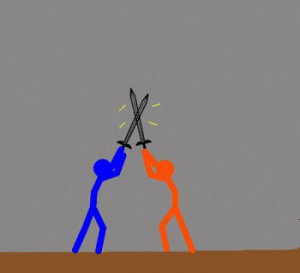 Not big news you might think but the interesting thing here is that you could easily argue that digital place based networks (should you wish to distinguish between them and digital out of home) have typically been the domain of BroadSign (BroadSign's massive win with outdoor giant JCDecaux being the exception of course).
You may remember some big mouth at the 55th FEPE Congress in Vienna arguing that the software choice for ad based networks came down, quite simply, to Ayuda in the orange corner and BroadSign in the blue corner.
If our network source is correct in this instance then apparently BroadSign was pitching for this new business as well (that makes sense as you would expect them to go head to head going forward in all the major ad based pitches)
Did Ayuda Media Systems beat BroadSign at their own game or are we reading too much into all of this?
Either way, we think it's proof that the Ad based game is Orange vs Blue. Watch this space for a press release early next week.