JCDecaux has launched City Channel, bringing business-focussed editorial and data to a commuter audience across rail D6 digital screens in the City of London. City Channel will comprise the latest business and financial news curated by PA (Press Association) and live, financial data (currencies, government bonds, precious metals) from Bloomberg, and weather updates – delivered to screens by JCDecaux Dynamic.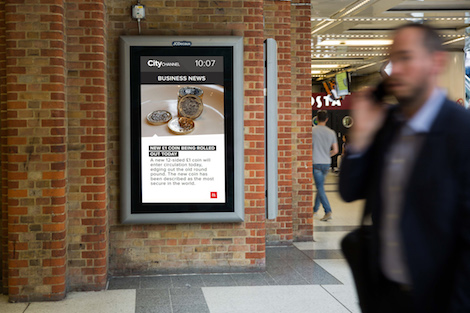 City Channel will be shown on weekdays across portrait (D6) screens in London Blackfriars, London Cannon Street, City Thameslink, London Fenchurch Street, London Liverpool Street, London Bridge and London Waterloo stations, across a dedicated content channel, alongside brand advertising.
Chris Collins, Managing Director – Rail at JCDecaux said: "City Channel is part of our strategy to provide the right content at the right time for audiences – keeping people working in the city up-to-speed with the latest business news during their commute, as well as providing a relevant editorial environment for our advertising partners."
Hamish Kiernan, Commercial Director, Network Rail Property, said "Millions of people travel through our rail stations in the City of London every year and we are committed to improving passenger experience and making our stations destinations in their own right – with people choosing them as great places to meet, eat and shop. JCDecaux's City Channel brings something fresh and new to the screens at our stations in the City of London helping to further enhance the commuter experience."
City Channel content is brought to screens through JCDecaux Dynamic's digital expertise, using the SmartContent platform, delivering 14 million impressions* every two weeks.