Retail Digital Signage Expo 2017 which is now 
Europe's only annual event dedicated to retail digital signage takes place May 8-9, 2017 at Olympia, Grand Gallery during London Digital Signage Week.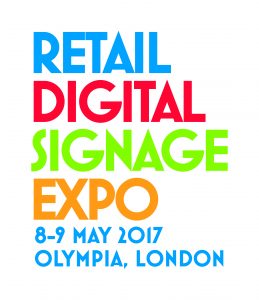 The Exhibition floor will feature over 70 suppliers, from screens and kiosks, integrators and AV specialists to content management, media players, networking solutions and includes; 10 Squared,3M Touch Systems UK, AOPEN, LG, Samsung, Beaver Group, Chief, Google, Dynascan, Hitachi, Intel, JamiePro bv, Pioneer Group, NEC Display Solutions, Pixel Inspiration, Pro AV, Scala etc.
New for 2017: –
The Innovation Awards & Trail. Some exhibitors have amazing innovations that can dramatically change businesses. To connect the two sides of this equation we have created the Innovation Trial and Awards (sponsored by 20:20) – a dynamic platform for visitors to witness the products, services and solutions that are set to reshape the retail and brand landscape.
Retail Digital Signage Champagne Bar & Bistro
. The Champagne Bar takes centre stage at Retail Digital Signage Expo, situated alongside the conference theatre right in the heart of the show, offering the ideal location for networking and relaxing.
The BIG PARTY hosted by Scala
. What retail industry gathering would be complete without a party? Join The Big Party sponsored by Scala at the Retail Digital Signage Champagne Bar on the first evening of the show (Tuesday May 8, 2017).
Chill Zone
. With so much to see and do at the show, you are bound to need a breather, plan the rest of your day, or meet up with new and existing contacts. Just make your way to the retail digital signage chill zone on the Gallery.
The launch of Retail Digital Signage Expo last year in 2016 (co-located with RBTE and Retail Design Expo) was an overwhelming success, with 15,452 attendees that year, including over 2,100 international visitors.
London Digital Signage Week takes place May 8-12, 2017 and as with its counterpart in New York, the week is for anyone involved with digital signage and interested in retail, employee communications, smart cities, digital out of home and of course digital signage!