Russ Curry, Ministry of New Media
This evening event from Connected Places Catapult takes place during London Digital Signage Week (May 13-17, 2019).
Thursday May 16, between 19:00-20:30 (registration starts at 18.30) sees their regular 'Third Thursday' networking event, this time on the topic of 'The Rideable City: hail the micro-mobility revolution?'.
Connected technologies, ever smaller and more powerful batteries and motors, and the push to electrify transport are powering new ways to zip around our crowded cities.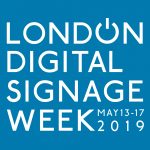 This event will focus on micro-mobility, a new class of 'rideables' ranging from quadricycles to e-skateboards. You will hear from the latest research the Connected Places Catapult and from innovative suppliers and regulators of these new products and services.
London Digital Signage Week takes place May 13-17, 2019 and as with its counterpart in New York, the week is for anyone involved with digital signage and interested in retail, employee communications, smart cities, digital out of home and of course digital signage!
Registration can be found here.