Russ Curry, Ministry of New Media
POPAI's flagship shopper conference returns during London Digital Signage Week to explore the commercial benefits, impacts and opportunities for brands and retailers, with in-depth case studies and expert analysis.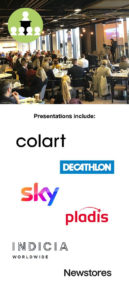 The popular press may be full of stories of falling footfall and declining sales on the high street but at POPAI we know the power of physical retail and the importance of the physical retail experience in engaging shoppers.
With the majority of retail shopping still taking place in-store, the physical retail environment is crucial, often bridging the gap between the myriad of touchpoints that exist in the complex shopper landscape.
From immersive experiential activations, to concept stores and pop-up installations, we'll look at the large – and small scale, right through to the power of the window and temporary P-O-P displays; all contributing to an engaging shopper experience.
When: 11th May 9:30am – 3:00pm
Where: Cubic Theatre, London Transport Museum, Covent Garden
Registration can be found here.